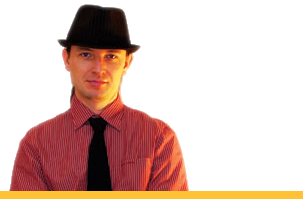 Jozef Nomülner
My very first contact with music was my own initiative. At the age of eight I heard someone playing the piano and after coming home I immediately asked my parents to enrol me in a music class and to buy me the instrument. Since they did not do so, I decided to surprise my parents :-) and one day I enrolled in a music class myself. My parents probably realised that I was indeed serious about the music and soon after I got a second-hand piano from them. I had been studying piano playing and theory of music at Professor Eva Danieliszká for eight years.
After finishing the elementary school of art I did not manage to be admitted to a conservatory due to an excessive number of piano players in the given school year. Therefore I decided to continue the 2nd cycle of piano playing at the elementary school of art. In 1996 I got a job in Opus, at professor Miloš Jurkovič – as a serious music assistant dramaturgist. Thanks to Miloš Jurkovič I met professor Burlas. And thanks to professor Burlas I discovered composition. It was professor Burlas who had been preparing me for two years for the study of musical science at Comenius University in Bratislava, Faculty of Philosophy. However, since I did not manage to be admitted to the faculty, the professor redirected me to study of composition at a newly opened Academy of Arts in BB, as I have always inclined to composition of a music song. After two years of studying composition at Academy of Arts, Faculty of Musical and Dramatic Arts, in BB the professor recommended me to Professor Igor Dibák, at whom I studied orchestral instrumentation, music forms, composition tectonics and finally he had been preparing me for elaboration of the diploma thesis – "Poem on Dragon's King", a symphonic composition for a big orchestra.
After completing the studies at the Academy of Arts in BB I was inspired by poems from Joseph Epes Brown's "The Sacred Pipe" and I wrote a chamber orchestra composition with soprano and alt singing, clarinet, timpani, percussions and string orchestra without prime and second violins. After a longer pause spent at work-and-study stays in Münster, Germany and in Sydney, Australia I returned to Slovakia and issued my chamber and orchestra scores with the state publisher "Hudobný fond" (Musical Fund).
Together with PJ RECORDS, a music publisher, and with PJ SOUND STUDIO, a recording studio, currently I record and plan to issue a new chamber music album: String quartet "Wedding song", sextet "Colloquio per sei strumenti" /fl., Cor.Angl., Cl. bass., vl., vla., vcl,/ , septet "Méditation á la Chopin" /fl., cl., fg., cr., vl., vla., vcl./.